Creating Offsets of Entities
Use the Offset command to create parallel shapes of Lines, 2D PolyLines, Circles, Arcs, Ellipses, Elliptical Arcs, Splines, Rays, and InfiniteLines. A copy of a selected entity is placed at a specified distance from the original entity. The original entity stays in position.
The offset depends on the type of drawing entity:
Lines: Creates identical copies and moves in the direction and distance you specify.
Circles, Arcs, and Ellipses: Creates and scales copies using the center of the entity as a base point for scaling. You can create concentric Circles and Arcs with radii smaller or larger than the original entities.
To create offsets of entities:
Click Modify > Offset (or type Offset).
Type an offset distance between the source and target entity or specify an option:
Delete: Removes the original entity when the copy of the entity is placed.
Distances: Creates multiple offsets. Select an entity to offset, and click on the side of the entity to offset. Specify the first distance and second point. Then you can specify additional offsets.
Destination layer: Specifies whether the entity is to be copied on the active Layer or source Layer.
Through point: Creates an offset entity passing through a point you specify.
Select the entity to offset.
To reverse the previous offset without terminating the running Offset command, specify the Undo option.
Specify more offsets or specify the Exit option to end the command.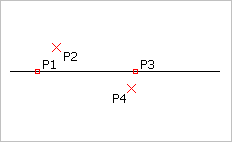 Access
Command: Offset
Menu: Modify > Offset